creative harp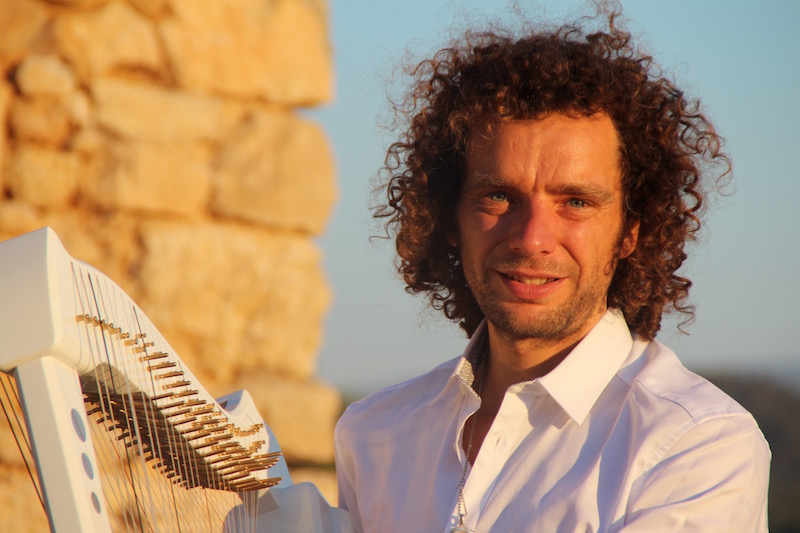 Raphaël Pinel is a creative and intuitive harp player and composer from Cherbourg, Normandy, now based in Aix-en-Provence in South France.
His main instruments are the celtic harp that he's been playing for more than 25 years and the innovative 6×6 cross-strung whole tones chromatic harp, a very rare instrument with 2 rows of strings that allows him to explore new musical avenues on the harp. In 2015 he also starts to play the pedal harp.
His music is fresh from the heart and combines powerful simple melodies, jazz harmonies and groovy Latin-world or asymmetric rhythms.
Raphaël Pinel is playing in solo concerts, in duo with the fantastic bass player Eric Ragu or with his trio Phoebuzz (harp & electronic machines, trumpet, percussions). He also plays for events, openings, vernissages, weddings, creating beautiful atmospheres. You can contact him for harp, concertina and tin-whistle lessons for children and adults, in person or on Skype.
Présentation
Raphaël Pinel crée à la harpe une musique actuelle et innovatrice. Ses compositions originales, enrichies par une improvisation spontanée en complicité avec le public, nous amènent dans des voyages imaginaires, nous laissant découvrir des univers parfois très méditatifs et spacieux, parfois inspirés de rythmes latins ou orientaux sur lesquels dansent des mélodies d'ailleurs sur des touches jazzy.
Il se sert pour cela d'intruments enchanteurs, comme la harpe celtique, qu'il joue avec une extraordinaire liberté depuis plus de 25 ans, la harpe chromatique à double rangée de tons entiers, un instrument très rare avec lequel il explore de nouveaux univers, laissant cours à toutes ses inspirations ou encore la harpe de concert électrique à pédales.
Il se produit aussi bien en concert solo qu'en duo avec l'excellent bassiste Eric Ragu ou avec son trio Phoebuzz (harpe et machines, percussions, trompette). Il crée également des atmosphères particulières et enchanteresses pour toutes sortes d'évènements, vernissages, inaugurations ou mariages.
Enfin, vous pouvez le contacter pour prendre des cours de harpe, concertina, tin-whistle pour enfants et adultes, en personne sur Aix-en-Provence ou du monde entier par Skype.